Expert Planning. Award Winning Service. Unbeatable Value
Start Planning your Journey
Take a Look at Our
MOST POPULAR TOURS
Christmas Market travel options
Christmas Market Tours
Christmas Market Tours are incredibly inexpensive due mostly to the time of year... There are Christmas Market Tours through Central European countries such as Austria, France, and Germany.
Dating as far back as the 1400s, Christmas Markets in Europe have been providing locals and foreigners with Christmas light shows, concerts, apple cider, gluhwein, and Christmas Trees that put Rockefeller Center's spruce to shame! The thing with Christmas Markets in Europe is that there are many; most throughout Central Europe... There are many ways to experience European Christmas Markets, two of which are Christmas Market Tours and Christmas Market River Cruises.
Difference Between A Christmas Market Tour and a Christmas Market River Cruise?
The difference between a Christmas Market Tour and a Christmas Market River Cruise is that you only have to unpack once for one of them. Rivers used to be the highways of Europe back in the day, and unlike today where you have to travel far and wide to reach major city centers, city centers were right off the river. Take Prague for example... For the past ten centuries, Prague has been filling the Vltava River, which is home to over 1 million people. Escorted tours of Europe that include Prague, normally include Vienna and Budapest. That said, the distance between Vienna and Prague is about 200 miles. Tours of Prague Vienna and Budapest normally have a stop in Bratislava or Moravia, which eases the bus ride between the two destinations. On a Prague Vienna and Budapest river cruise, you'll be floating on the river seeing all the castles and sites as you sail through. Like escorted Europe Tours, European River Cruises offer options such as bicycling through a bike trail near the river as the vessel floats beside you.
What Makes Christmas Market Tours So Special
Here's what makes Christmas Market Tours so special:
During the four Sundays preceding Christmas (Advent), Christkindlmarkts fill the streets of many cities and villages bringing Christmas to life.


Getting to see and experience a Christmas Market in Europe by itself is most definitely a bucket list item.


Having the chance to purchase unusual holiday ornaments not easily found in the states is also a treat.


Experiencing warm Gluhwein while wandering through Central Europe Christmas Market during a cold winter's night is a highlight.


Iceskating in Rockefeller Center is a wonderful experience; however, iceskating in the middle of a five hundred year old Christmas Market is entirely something else.


Discovering hot chimney cakes, Spatzle, and Lebkuchen can transform your experience into something amazing!


But where to begin when trying to figure out the best Christmas Markets in Europe?
The Best Christmas Markets In Europe?
That's easy... The best Christmas Markets in Europe are all the above, because they're all wonderful! It all depends if you prefer taking a Christmas Market Tour or Christmas Market River Cruise.
Reviews
Roseanne S.
The representative I dealt with, Brenda was very courteous and was well informed about my desire to travel to Europe. I would definitely use Atlas tours to secure a future trip and will keep up to date using your website.
Shikh S.
Good service and Sandi was very helpful. Clients need all details as normally they are far away from your office and with the time difference of 10-12 hours it is the prompt reply with all details makes the difference between good and bad service.
Ellie F.
Excellent service. Very satisfied. Looking forward to trip.
Emily C.
This is the second trip I have booked with Brenda. She is so helpful and a sweet voice on the phone. I look forward to booking with her more often!
Lim Y
Gabriela has been helpful & very prompt in providing information about Antarctica trip. We are definitely joining the trip, pending the timing.
Jim L.
New York
Whenever the subject of "how did you book your travel plans", we always recommend Atlas Cruises & Tours in Florida and you specifically. And, yes, we beginning to search for 2017 travel. This trip was near the top of our best tours and, as usual, a lot had to due with your support and patience. We look forward to working with you on our 2017 and future plans.
Marlene P.
Very Professional - great follow-up. All my questions were answered immediately. I was very happy with the customer service.
Maurice B.
Burt was very helpful and responded quickly. He had the answers to my questions. He was very professional and did a great job.
Cassy P.
Fort Lauderdale, FL
I'm happy that I came across Atlas Cruise & Tours, with so many options out there when it comes to travel planning, it is refreshing to come across an agency that is professional,personable, & local. Not only, will they answer all your questions, they will also find you the best deals & rates for your budget. I would recommend them to anyone who wants a white glove treatment.
Anthony F.
Indiana
The overall service from Alex exceeded our expectations. He was very efficient and had great attention to the details of our trip. When i plan my next tour, I will use Alex and Atlas again.
Latest From Our Blog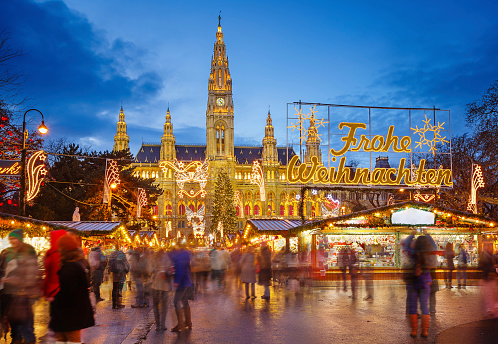 There are several options for Christmas markets vacations including Christmas Markets Tours, Christmas Markets by River Cruising along the Danube and Rhine rivers, or