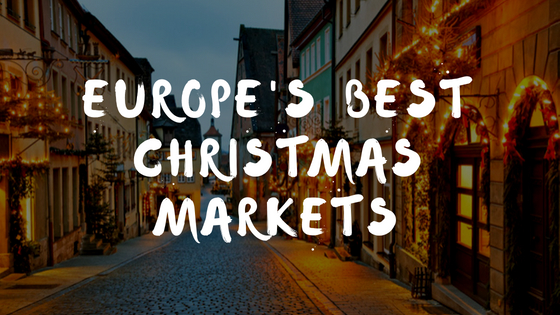 Europe's Best Christmas Markets
In Europe, the months from November to early January are synonymous with Christmas
markets. Across the continent, you can find hundreds of traditional Christmas markets each
with its own unique charm and appeal. We have narrowed it down to the top 5 Christmas
Markets in Europe to visit on your holiday trip this year.
#1 Berlin, Germany
From: November 26, 2018 to January 6, 2019
Germany is arguably the capital of Christmas markets in Europe, and its capital Berlin is one of
the best cities for Christmas markets. Berlinâ??s festive Christmas market consists of dozens of
markets throughout the city complete with ice skating rinks, fairground rides, and toboggan runs
in addition to the variety of artisanal gifts such as candles, toys, and hand-blown glass. The
Christmas markets in Berlin have lots of food and drink stalls, including the favorite mulled wine,
and bratwurst.
#2 Zagreb, Croatia
From: December 2, 2018 to January 6, 2019
For the third year in a row, Zagreb was voted the best Christmas market in Europe by European
travellers. Located in desirable Croatia, Zagrebâ??s Christmas markets offer high quality crafts
and gifts, as well as activities like ice skating rinks, concerts, and more, all at affordable prices.
Zagrebâ??s market is decorated with twinkling candlelights and colourful displays and has
numerous food and drink stalls.
#3 Strasbourg, France
From: November 23, 2018 to December 30, 2018
This French-German border cityâ??s Christmas market dates back to 1570, earning it the title
Capital of Christmas, or Capitale de Noël in French. The city features one of the largest natural
Christmas trees in all of Europe spectacularly lit up in its town square. The medieval
architecture is the perfect backdrop for this traditional Alsatian style Christmas market. The
market consists of over 300 chalets throughout city center where you can find unique arts, crafts
and Christmas decorations. There are also several Advent concerts and a Living Nativity
exhibit, as well as live music and cultural events.
#4 Brussels, Belgium
From: November 30, 2018 to January 6, 2019
Named the Winter Wonders event, this Christmas market located in the city center has more
than 200 chalets selling a variety of goods. The entire city center is spectacularly decorated
with a Christmas tree and sound and light show with video-mapping on the Grand-Place and a
Christmas Parade. There is also a ferris wheel, merry-go-rounds, and a covered ice skating rink
in the Place de la Monnaie.

#5 Manchester, United Kingdom

From: Typically early November through late December
Making its debut in 1998, Manchester was the first European-style Christmas market in the U.K.
and it is the biggest in the country, with over 300 unique stalls selling everything from handmade
crafts to toys to jewelry, as well as plenty of international foods and drinks. The entire city
center is transformed and illuminated with lights and Christmas decorations, making it a great
destination for all ages.