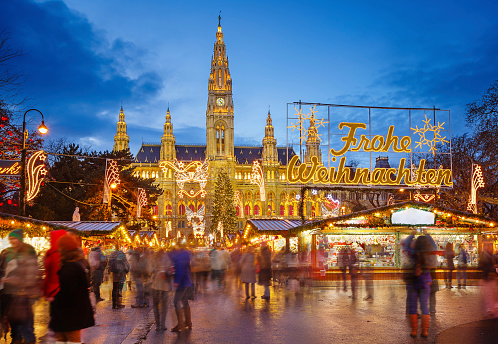 Christmas Markets By River Cruising
There are several options for Christmas markets vacations including Christmas Markets Tours, Christmas Markets by River Cruising along the Danube and Rhine rivers, or independent city stays where you can travel at your own pace.
Discover the Magic of the Rhine: At the Christmas markets along the Rhine river, you'll enjoy a variety of unique experiences. Savor soft German pretzels and see the largest tree in the Rhineland in Cologne, which boasts more than 150 stalls in front of the city's majestic Cathedral. Also, you'll explore the oldest, largest and most famous market in France when you visit Strasbourg - where Alsatian treasures and delights have been dazzling visitors since 1570.
Experience the season on the Danube: You'll visit impressive markets on your Danube cruise. Vienna's glimmering City Hall makes an unforgettable backdrop to its 700 year old markets, where you'll find decadent Austrian tortes, enormous pastries and international choirs. Nuremberg has over 180 stalls brimming with unique German gifts, like Plum People - folksy figurines made from dried prunes. Enjoy one of our favorite Christmas markets in Vilshofen, a delightful Germany town known for its warmth and friendliness.